Full Range of Vehicle Restoration Services
Do you need a full classic restoration? Are you searching for an experienced team to repair some parts of your car's interior? Look no further than Arroyo Brothers Auto Upholstery. We provide a variety of auto and boat upholstery services to clients in National City, CA and the surrounding areas. Additionally, we offer military discounts.
Our hardworking team takes pride in our workmanship as well as our company being family owned and operated since 1971. Whenever we accept a restoration project, we always make sure that we'll deliver services that satisfy our clients.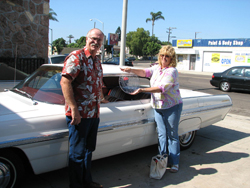 Contact the Upholstery Restoration Experts
When it comes to custom vehicle upholstery restoration, no other company does it better than Arroyo Brothers Auto Upholstery. From minor repairs to complete restorations, we produce exceptional results every single time. We strive to be the go-to upholstery service provider for all auto drivers and owners in the area, and we will achieve this by maintaining a consistently high level of service in every job we take on. Give us a call today for a free estimate!
Call Us: 619-474-4684
Contact Us: [email protected]
Visit Us: 128 National City Blvd., National City, CA 91950
Hours: Monday-Friday 8 a.m.-5:30 p.m.