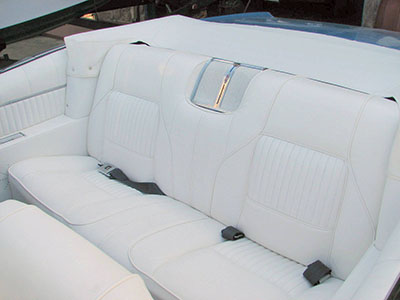 Personalize the interior of your vehicle today! Arroyo Brothers Auto Upholstery offers individualized repair and restoration services to clients in National City, CA and nearby areas. If you want to have a more comfortable ride and improve the interior look of your car, we are also the right team for the job.
We are experts in providing special order products and services that are superior in quality. Our team has extensive experience in supplying a wide range of car accessories such as dash covers, custom seat covers, and floor mats. These items can be customized to fit any automobile model!
Find out how we can transform your car's interior into the one that you've always wanted by reaching out to us. Our friendly team looks forward to serving you!
We understand that our clients have different needs and preferences. That is why we work closely with them, taking the time to identify the best possible solution to their problem. It is also for this reason that we accept special orders. Currently, our team can cater to clients who would request for the following products:
Camo Protective Seat Covers
Dash Caps
Dash Carpet Covers
Floor Mats
Leather Seat Kits
Protective Seat Covers in Assorted Colors and Fabrics
Sheepskin Seat Covers
And More
Trusted by Auto Dealers
We serve various auto dealers who offer used and new cars; their confidence in us speaks volumes about our ability to take on even the unique customer requests. Some of the auto dealers we work with include:
Frank Toyota, National City, CA
Greg Miller Toyota, Lemon Grove, CA
South Bay Volkswagen, National City, CA
Toyota Chula Vista, Chula Vista, CA